What is Redundant Mode?
By default, Speedify operates in "Speed Mode," in which Speedify sends each packet of your data over one connection at a time. For a speed boost, it may send some data on one connection, and some data on the other connection, but each packet of data is only sent once.
Redundant mode gives you super-reliable internet by sending all of your data over both the Cellular and Wi-Fi connections. It uses a lot of data and a lot of battery power, so it's not recommended for normal usage. It's more appropriate for protecting very important sessions such as a business call over Skype or live streaming a video to an audience. It can also protect sessions against excessive packet loss. We have a number of reporters and people live streaming video who love Redundant mode, but it's not for everyone.
To enable Redundant Mode, first, click the gear icon on the Dashboard. Then tap the Bonding Mode then choose Redundant and confirm the change.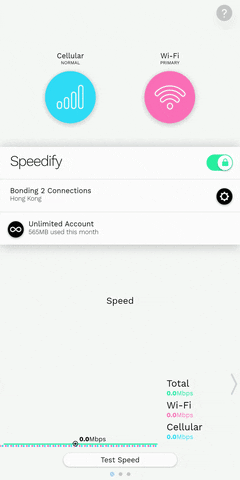 To be clear, unless you are certain that you need Redundant mode, you should leave this setting off!