Siri Shortcuts
With Siri, you can streamline your most common Speedify actions!
Adding Shortcuts
Users have a number of options when it comes to configuring Siri Shortcuts. You can access them in the iOS Settings app, via Siri & Search. Alternatively, you can use Apple's new Shortcuts app, which allows you to string together multiple Shortcuts.
However, at Speedify, we thought there should be an easier way to access these, so we built a section within the app from which you can manage all of your Speedify Shortcuts.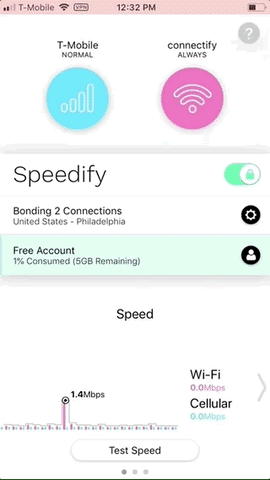 Start by launching Speedify and tapping on the gear icon in the center of the Dashboard.
Then, navigate to the Siri Shortcut section. Here you will see a toggle that allows you to choose whether or not Speedify will suggest Shortcuts to you as you continue to use the app. This is optional; you can still set up Shortcuts with the toggle turned off.
To begin setting up Siri Shortcuts, tap the Configure Siri Shortcut button.
You will then be presented with a list of available Shortcuts. Some of the Shortcuts available when first launching are
Connecting to the fastest server
Connecting to the last server
Connecting to a p2p server
Setting to Redundant Mode
Setting to Speed Mode
Disconnecting
Options for new Shortcuts will be added to the list as you use the app. For example, if you connect to the Philadelphia server often, it will appear on the list of suggested Shortcuts. The same is true for a country; if you frequently connect to a server in Great Britain, you will eventually see a Shortcut to connect to a server in Great Britain.
Once you know which Shortcut you would like to create, tap that cell. You will then be presented with an Add to Siri screen.
This is where you may record your custom phrase. Speedify will suggest a phrase, but you are free to use your imagination and create your own. When you are ready to record, simply tap the big red button, which will prompt you to record your voice. Once you have finished recording, Siri will display your captured phrase.
Tap Done when finished to return to the Shortcuts menu. Notice the Shortcut you recorded now has a colored icon next to it, indicating that it has been configured. The cell will also display your phrase—just in case you forget. Remember, you can tap the action and re-record your phrase at any time.
Using Shortcuts
Now that you have set up your Shortcuts, let the fun begin! Simply raise your phone and say "Hey, Siri," followed by your phrase. Siri will take care of the rest, helping you streamline your most common Speedify tasks!